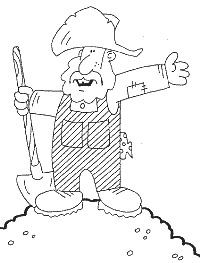 Just a Reminder About Collecting–from the Barstow Field Office
Rockhounding
Visitors to the Mojave Desert often ask where they can rockhound. Perhaps the best source of information is rock, gem, and mineral groups found in communities throughout southern California. Libraries, bookstores, and "gem and mineral shows" are also very good sources of published information. Although any hill, mountain, or wash can provide some wonderful rock and mineral discoveries, the following listed areas are some of the well-known sites visited by rockhounds in which good samples can still be found.
Many rockhounding sites require hiking or driving to remote areas on sandy or rocky roads where there is a possibility of getting stuck. It is always a good idea to travel in a group and to bring plenty of drinking water with you when traveling in the desert. If you must travel alone, be sure to let someone know of your plans. Remember to stay on designated open roads. Cross country travel is illegal, as is driving in designated Wilderness Areas.
Rules and Regulations
Part 8365 of Title 43 CFR (Code of Federal Regulations) provide for the collecting of "reasonable quantities" of rocks, minerals, semiprecious gemstones, and invertebrate and plant fossils of non-scientific importance, for personal use. With respect to rockhound material, the Field Office considers a "reasonable quantity" to be not more than can be carried in a daypack.
Regulations do not allow collecting on "developed recreation sites and areas," or where otherwise prohibited or posted. Care should be exercised not to collect minerals on mining claims. Most claimants will allow rockhounding if the individual interested in rock collecting first asks permission. Remember, it is your responsibility to determine if an area
is open to collection or if you are on private land.
Petrified Wood
The collection of petrified wood is governed by regulations found in Part 3622 of Title 43 CFR. Persons may collect petrified wood for non-commercial purposes without charge, from public lands. There is a limit of 25 pounds per person per day, plus one piece (to avoid breaking a large piece) to a maximum of 250 pounds per year.
Vertebrate Fossils
The collection of vertebrate fossils is illegal on public lands without a paleontological permit. Violators will be prosecuted under the "theft of government property" provision of 18 USC (United States Code), Section 641, and may face a minimum fine of $1,000 and a year in jail, and up to $10,000 and 10 years in jail. Permits to paleontologists are available from BLM State Offices.
Prehistoric Artifacts
Virtually all sources of colored silica (agate, chalcedony, jasper, obsidian, etc.) have been historically used by Native
Americans in the building of weapons and other tools. The collection of any artifacts, including projectile points, ovate bifaces, cores, flakes,and all other material worked by prehistoric cultures and now found on public lands, is prohibited by the Antiquities Act of 1906, and the Archaeological Resources Protection Act of 1979, without an archaeological permit; such permits may be obtained from BLM State Offices.
Rock for Decorative Purposes
With respect to the collecting of decorative veneer stone, the Barstow Field Office considers a "reasonable quantity" to be not more than can be carried in the trunk of a car.
Mining Claims
The requirements for location of mining claims on public lands for commercial mineral development is contained in various Federal Regulations. The information is also available in an easily readable publication entitled "Discovery, Location, Recordation, and Assessment Work for Mining Claims in California." This publication can be purchased at any BLM office. BLM field offices maintain a record of location for active and abandoned mining claims in the LR-2000 computer system.
Maps
Desert Access Guide Maps showing the distribution of public and private lands are available for sale at BLM offices. These maps can be purchased at any BLM office.
-California Desert District Office, 22835 Calle San Juan De Los Lagos,
-Moreno Valley, CA 92553 – Phone: (951) 697-5200
-Barstow Field Office, 2601 Barstow Rd., Barstow, CA 92311 – (760) 252-6000
-Needles Field Office, 101 W. Spikes Rd., Needles, CA 92363 – (760) 326-7000
-Ridgecrest Field Office, 300 S. Richmond Rd., Ridgecrest, CA 93555 – (760) 384-5400
-Palm Springs-South Coast Field Office, 1201 Bird Center Drive, Palm Springs, CA 92262 – (760) 833-7100
-El Centro Field Office, 1661 South 4th, El Centro, CA 92243 – (760) 337-4400
Additional Information
If you would like additional reading material on rockhounding, please visit the California Welcome Center., Tanger Way, Barstow, CA 92311 – (760) 253-4813.
Rockhounding Locations
1. Opal Mountain Black Mountain – 5 miles north of Fossil Bed Road via dirt road . Jasper . Nodules . Opal
2. Mule Canyon – 3 miles north of Yermo . Agate . Borax . Celestite . Jasper . Olivine . Petrified Wood . Satin Spar . Silver . Travertine . Olivine
3. Alvord Mine – 7 miles north of Manix via dirt road . Agate . Calcite . Chalcedony . Jasper . Pyrite
4. Pisgah Crater – 1 mile south of Interstate-40 off of Historic Route 66 . Lava . Volcanic Bombs
5. Cady Mountains – 6 miles north of Pisgah via dirt road . Agate . Chalcedony . Geodes . Jasper
6. Afton Canyon – 1 miles southeast of Afton off ramp via dirt road . Agate . Calcite . Chalcedony . Jasper . Nodules
7. Broadwell Dry Lake – 6 miles north of Ludlow via Crucero Road; west to hilly area . Banded Agate . Moss Agate . Geodes . Jasper . Onyx
8. Halloran Spring – Turquoise Mountain North of Halloran Springs . Azurite . Turquoise